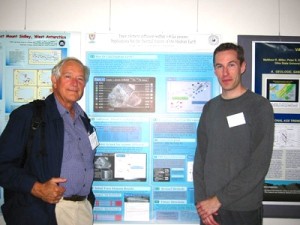 Year: 2004
Venue: Copenhagen, Denmark
Travel report by Eric Thern
---
With the generous support of a JH Lord Travel Grant I was able to cover part of my travel expenses to the Goldschmidt Conference in Copenhagen .
I presented a poster at the conference titled "Trace element diffusion within >4000 Ma zircons: implications for the thermal history of the Hadean Earth." The poster described an initial technique to search for diffusion within >4,000 Ma zircons and how this could be used to constrain early Earth thermal conditions. Earlier SHRIMP (Sensitive High Resolution Ion MicroProbe) investigations on some >4000 Ma zircon grains from Jack Hills , Western Australia , show a range of dates on a single grain. These dates do not correspond with core, rim or cathodoluminescence zoning and might be explained by volume diffusion of Pb. The poster presented the background to this problem and explained volume diffusion, described the zircon grains used in this experiment and the electron microprobe work undertaken, and showed some initial results. Although no substantial conclusions could be drawn from the research at the time of the conference, the poster was well received and provoked interesting discussions, as well as some excellent constructive criticism.
During the poster session and at the oral sessions, I was able to gain valuable insight from researchers in similar fields. Discussions on diffusion within zircon, electron microprobe techniques and recent studies on these ancient zircons had a positive impact on my current Masters research. Some of the more relevant talks I attended were "Composition and evolution of the Early Earth" and "In-situ investigation of properties and processes", which had components of early Earth zircon research as well as in-situ investigations of zircons. Being able to meet with some of these presenters was a tremendous opportunity to discuss future research in this field, and proved invaluable.
Overall, the Goldschmidt 2004 Conference in Copenhagen was a great success and an incredible occasion for me to discuss research in a new environment. I thank Geoconferences (WA) Inc. for providing funding to help me attend this conference.